I am am an independent life, accident and health insurance producing agent based in Florida, licensed in multiple states: Florida (W965746), Georgia (3650990), Virginia (1398323), Texas (3069623/3069636), Arizona (20666979) and California (pending). My license information and up-to-date certifications for continuing education requirements are included below for those who may need to check my credentials and eligibility.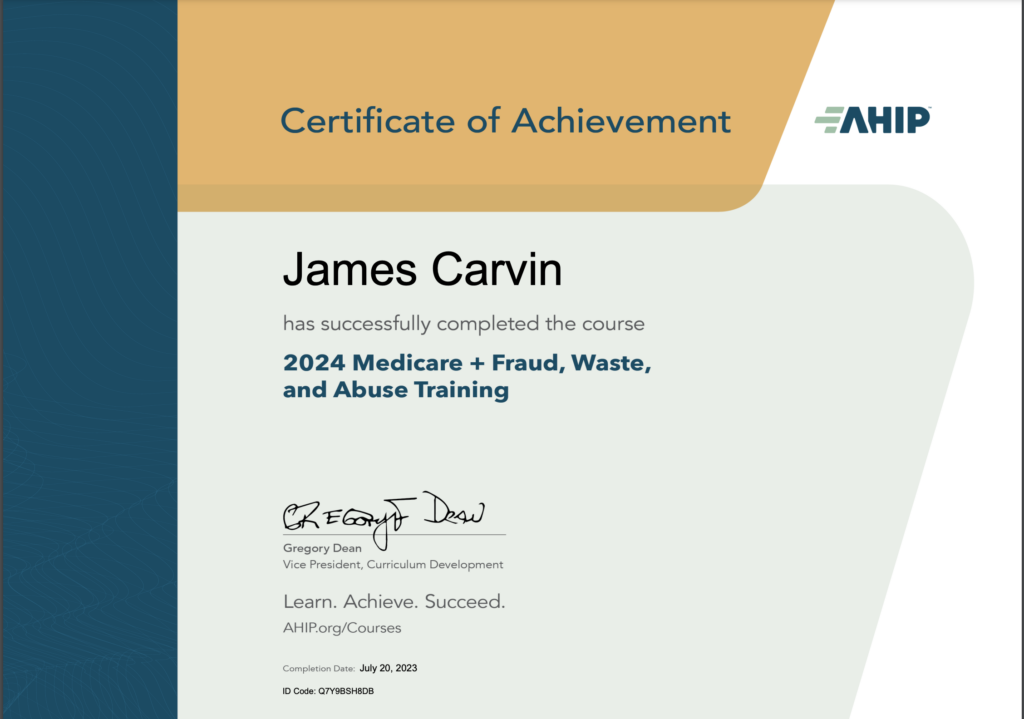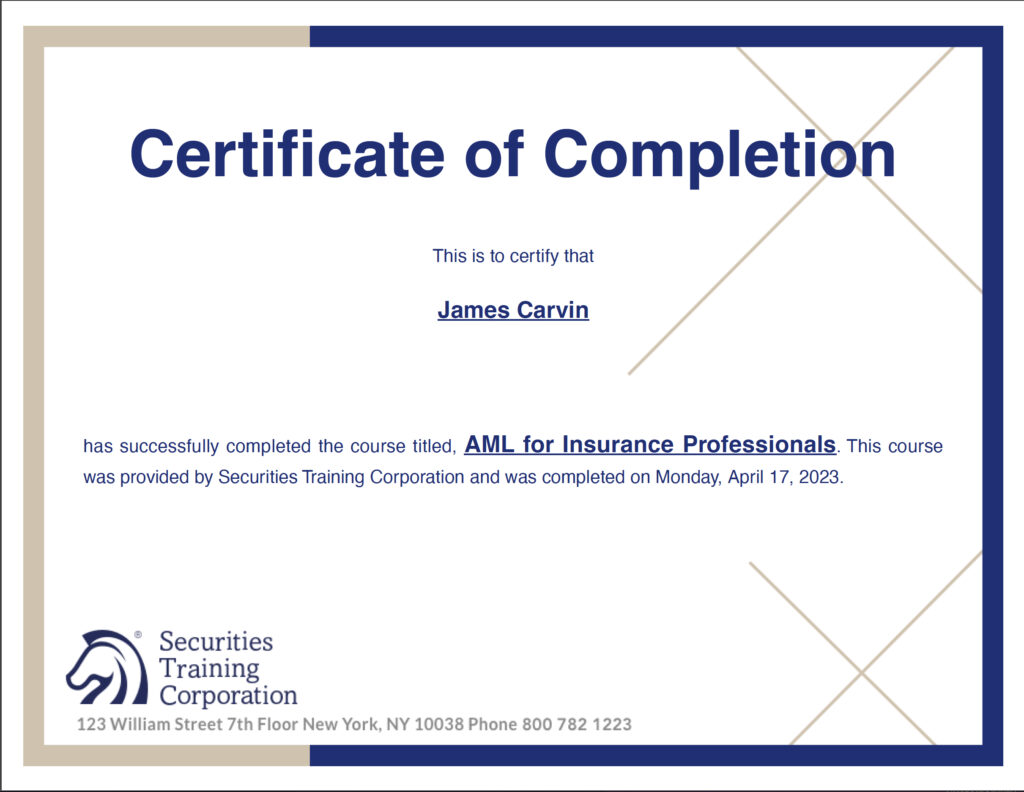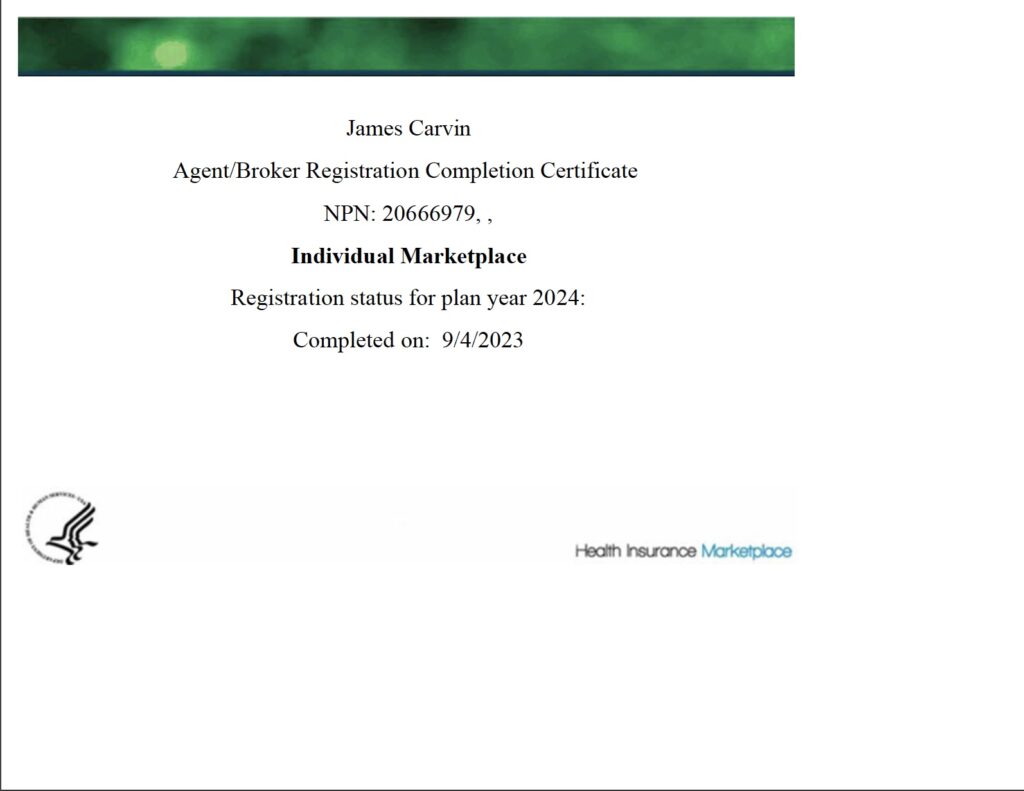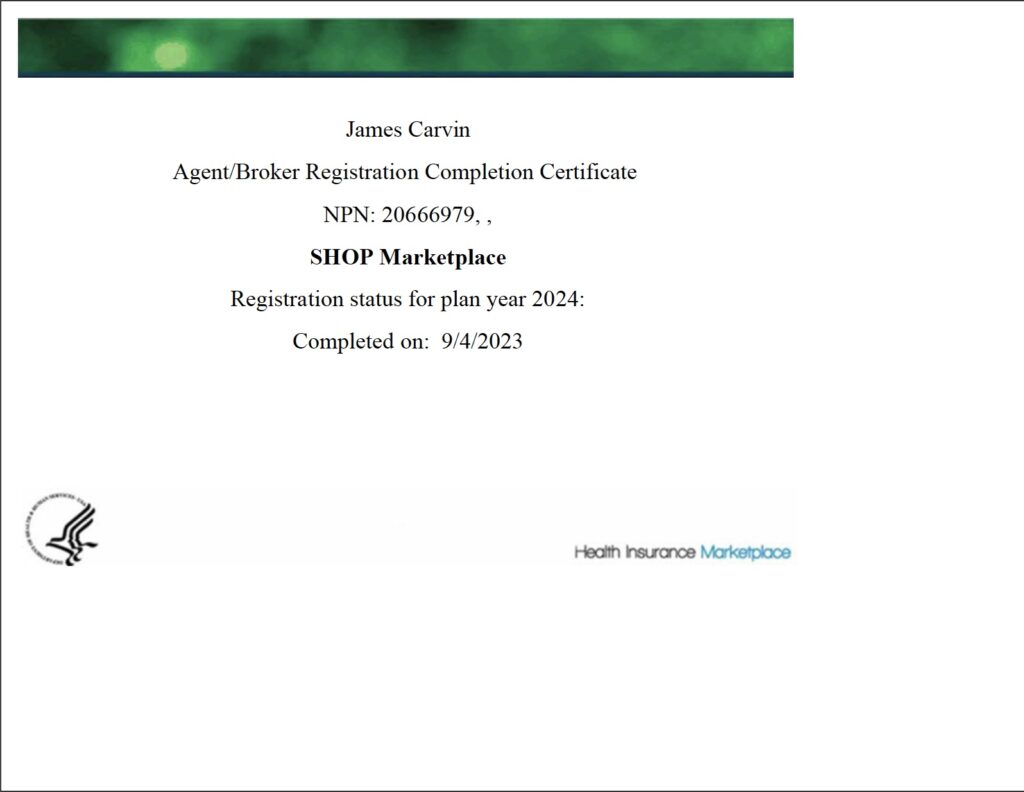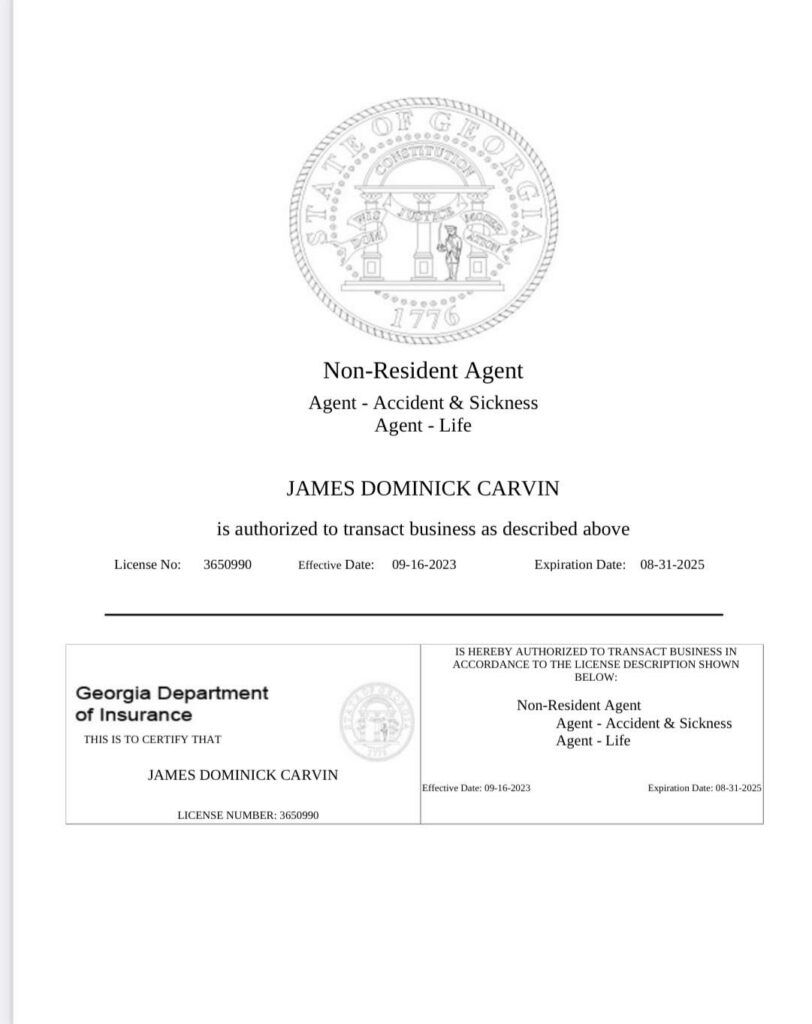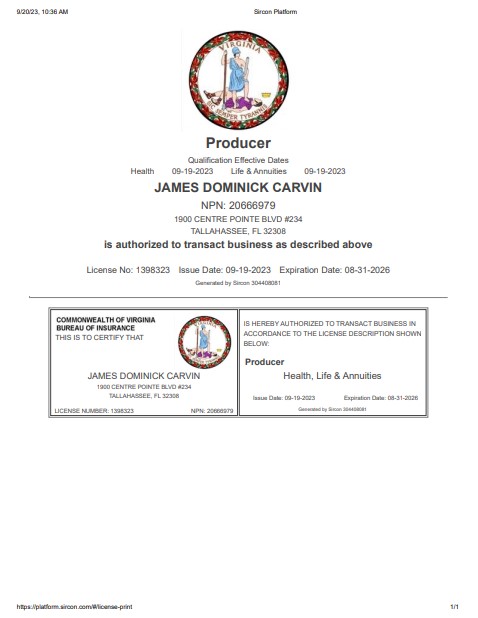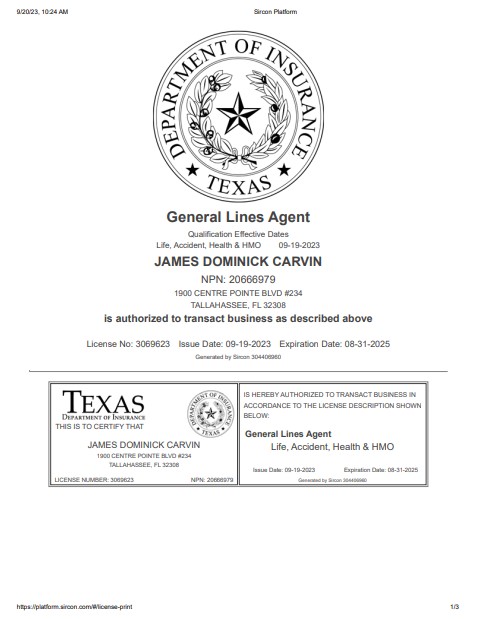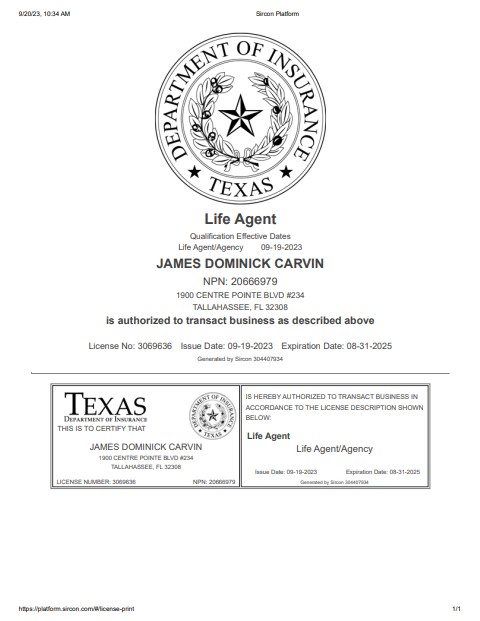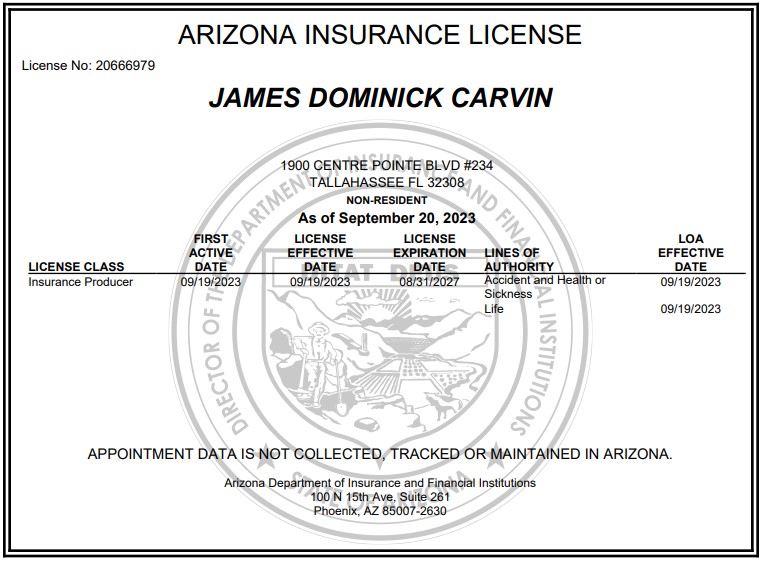 About Me
I got into the life insurance business in my sixties after graduating from Arizona State University with a 4.0 average. My degree was in Interdisciplinary Studies with concentrations in Organizational Leadership and Philosophy. I already had a degree in Music Composition from the University of South Carolina that I'd earned in 1980 while on a springboard diving scholarship. And then after that I earned a theology degree, as well, after six years of study in two small colleges in South Florida – St. Vincent de Paul Seminary and St. Michael Academy, where I also served as an adjunct professor. I am a highly dedicated, very detail oriented person, who loves to teach and lead. JamesCarvin.com is a comprehensive web site that tells you more about me. Last year I completed Season One of my Awesomeology solo podcast. I'm currently looking for a co-host for Season Two. My motto is "Maximized Awesomeness."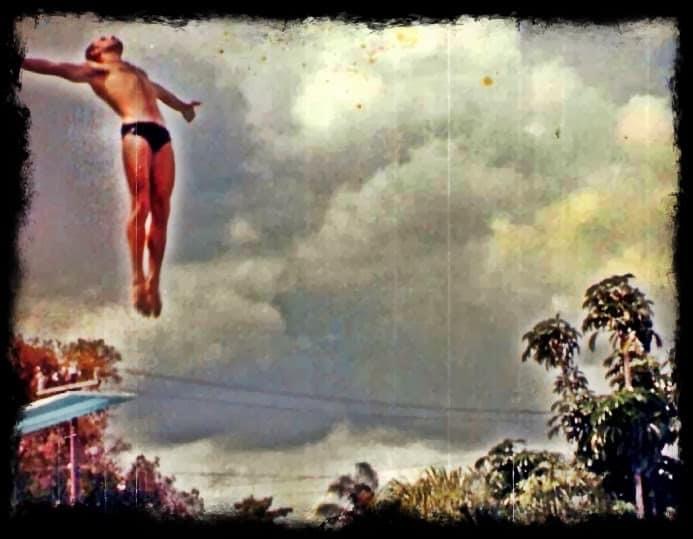 I am an Independent Broker with Multiple Carriers
The list of carriers below is not exhaustive. Family First Life is one of the largest private insurance brokers in the USA. My goal is to help you locate the ideal product for your personal qualifications and budget. Please note that I do not personally have contracts with every carrier. There are several reasons for this. Firstly, it is largely repetitive and unnecessary. Secondly, some carriers are not as efficient at simplified underwriting and instant approvals as others. Thirdly, not all are highly rated. Service often matters as much as price and it won't help if a company advertises a lower price if you don't qualify because of their underwriting process. Also, you need to be on the lookout for renewable term policies that look like whole life but they're not. Many come in the mail. Trust my experience. I will make good decision making easy for you.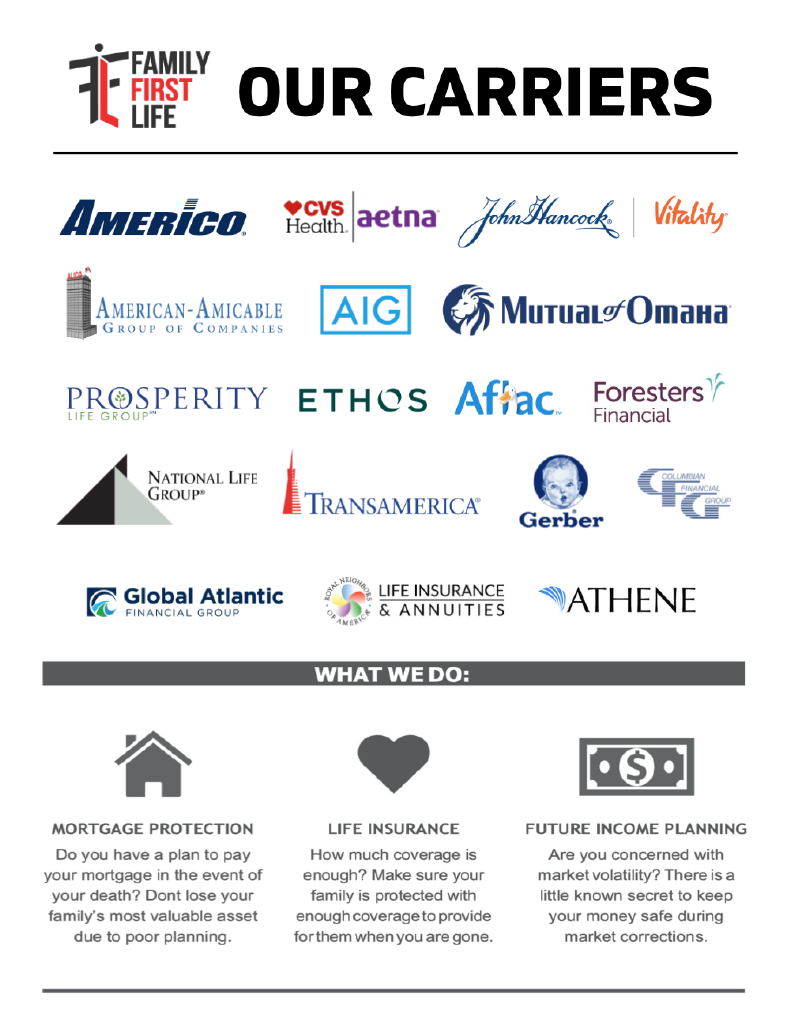 Be aware that if you can find a product you qualify for for less, so long as the reputation and service are good, all things being equal, I will seek to contract with that carrier. You should also be aware that that rarely happens because I already have so many insurance carriers and products to choose from and that work has already been done. My goal is to save you hours of searching and to prevent you from getting endless phone calls from captive insurance agents who can only sell you one line of products. Keep in mind that the more online forms and mailers you fill out, the more you will get solicited. Let me be your final stop. I make it easy for my clients by providing expert guidance and by helping you shop for the right product for your qualifications and family's needs. You can also set up an in-home or virtual consultation using the scheduler below.
What to Expect
While I am with you, whether in-home or virtually, allow me to review any current policies you have. I will not recommend any changes unless it will make a significant positive difference for you and I will disclose both the upside and downside of switching any policies you already have. In-home and virtual appointments usually consist of a brief budget and needs assessment, a few basic medical questions, a solution and identity verification, and a quick approval and application. Expect visits to take about fifteen minutes per policy. It is normal for me to underwrite a policy when I visit so expect to be fully cared for before I leave. Husbands and wives often require two and sometimes more.
How to Prepare
If you are married, be sure you are both present and attentive. I am sometimes a few minutes early and other times run late. If I'm more than thirty minutes behind helping a family before you, I will call or text to reschedule. There are several things you should have ready for our visit.
Any policies you think I should review. (If you can't remember who you are insured with, check your bank statement because you are probably paying them every month). If you don't have the policy, ask them to mail you a copy. They should do this for free. And you should ask for as many copies as you have beneficiaries so everyone has one.
Work policies are sometimes tricky. People often think they have life insurance policies through their employer but it is something else. If you have a copy of your employer's policy, it should be about thirty to sixty pages long. Otherwise, you probably only have a certificate, which means you don't actually own the policy. Policy ownership would mean that you have control over it. And if it is a whole life policy, you would be able to borrow on the policy's cash value. Otherwise, it is a term policy. When I assess your family's needs, I will help guide you through whether a term policy is best suited for you. Often it is best to have both a whole life and a term policy. The important thing is that you know what your goals are and you know what you have. I will quickly help you assess this.
Be sure you are ready to apply. You may not need a check book, but you will probably need your account number so you can pay your monthly premiums through EFT and if you have a separate account from your spouse and both enroll in a program, you'll need both sets of numbers.
Have other identification and contact information ready, including your drivers licenses and social security numbers. The social security number will be needed to check your medical history through the Medical Information Bureau as part of the simplified underwriting process and is subject to HIPPA portability laws.
One of the conveniences of in-home visits is the fact that you have your prescriptions right in your medicine cabinet. I will need to know what the insured (you or your husband) takes, how long they've been taking it and what conditions they have that require it so I can match them only with programs that won't disqualify them because they take them.
Think about who you want as beneficiaries and what sort of policies you might like before I arrive, but please be open minded as I might have some very good ideas too. Typically, I'll write one policy for a husband with the wife as the beneficiary and one policy for the wife with the husband as the beneficiary, and when there are children, the children are usually listed as contingent beneficiaries each receiving a portion based on how many children you have. You can also list grandchildren and many people also want to leave some portion of their benefits to their favorite charities when they pass, as well. This is something you should discuss with your spouse and be in agreement on, at least to some extent, before I arrive. Keep in mind that insurance benefits are tax free and creditors won't have any claim on them.
Work on your budget. If you buy more insurance than you can afford, everything will fail because your policy will lapse. Typically insurance policies are one of the first household expenses people decide to trim. As soon as people go through some financial stress or get tempted to buy something they really want, they convince themselves they can get insurance any time later. Not only is that not always true, but it is often more expensive too. What's more, if that happens, then any money they've put in so far will be wasted and we'll have all wasted our time together. I don't want that to happen. That's why it's so important to start every meeting with a budget assessment. So, perhaps the most important thing you can do to prepare for my visit is to get your budget started.
Let's Meet!
Okay. Now that you know what to expect, let's set aside some time. You can easily book or cancel and reschedule using the form below. I won't typically answer my phone while I'm visiting families, which is what I'm normally doing all week long, because I'm giving my undivided attention to the people I'm helping, but I do check my schedule between visits. So, I've found that the best way to reach me while I'm on the road is either online or by text. Are you ready to get started?
Choose a date and time when both you and your spouse will be present.
Begin by tapping on one of the dates below.
Fill out the form completely.
This online booking tool only extends for one week. People tend to forget I'm coming if I book more than a week in advance. If the time you want isn't available or you need to schedule your visit more than a week from today, send me a text. More often than not, I can work something out.

You can send your texts to the phone number on the business card below. If you do attempt to schedule by text, be sure to include all of the information requested on the scheduling form. In other words …
Name
Email
Spouse Name
Beneficiary Names
What your Goals Are
If you have a gate code, apartment number, dogs, parking instructions, hard place to find, etc.
That you'll be prepared with the prep list above.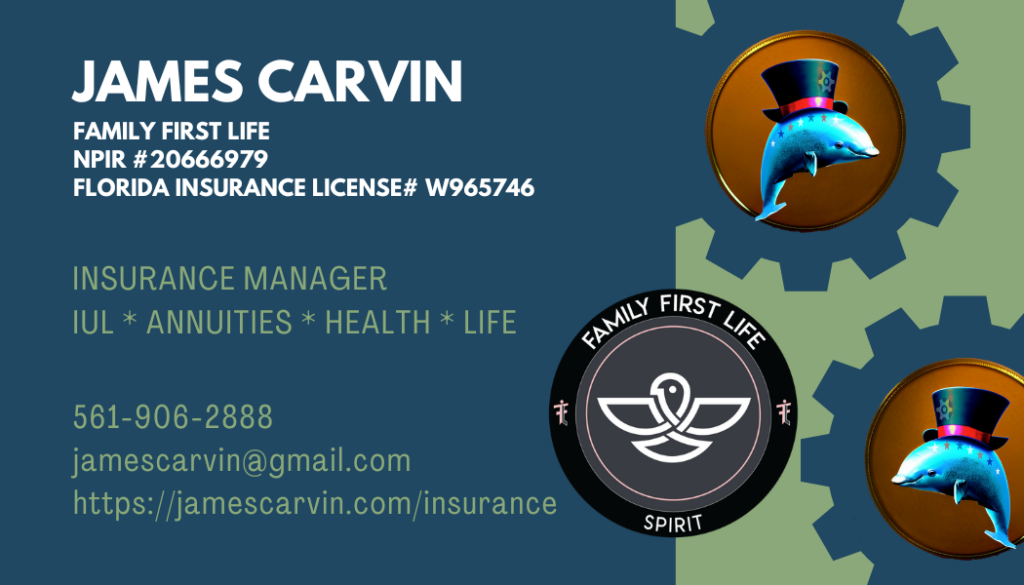 You can also send all that info in an email, but you must book the appointment by text. Otherwise, it may get lost in my junk mail.