NOVEMBER – Patreon, Branding and the Road I'm Traveling

Note: the MaximizedAwesomeness.com web site is not yet under development. The $25/month tier will buy hats and accessories faster (every two months) until the "Greatkeeper" functionality exists.
OCTOBER – SuperChris!

SEPTEMBER – Labor Day!

AUGUST – The Purpose of Birth

JULY – Independence Day!

JUNE – SuperPapa!

MAY – SuperMama!

APRIL – The Quintillion Project!

MARCH – My RSVP to Donald Trump's Invitation

Please subscribe to my YouTube Channel!
About James
An Uber driver has been doing a lot of thinking while alone in the car. He ran for president in 2016. He wants to start a new political party. He is an inventor who wants to build something he calls "the Ǥhost Machine."He's got a contraption he wants to build called the CabbyCam. He invented an entirely different economic system called, "incentivized asynalagonomy." As you follow the links on this page you'll learn what all this is about. He observes that communism, socialism and capitalism have all failed.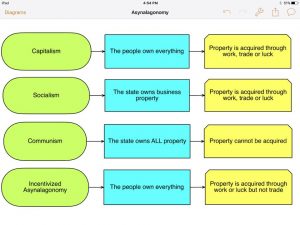 "The zeitgeist movement and the resource based utopias are dreams for hippies," he says.
"Countries that embrace incentivized asynalagonomy will end most crime, solve the health care crisis, bring unemployment to zero percent, end inflation, reduce war and produce more abundance, equality and justice."
His name is James Carvin. If you want to help support James in any of these endeavors, consider buying one of his top hats or help him organize a non-profit. Many hands make light work. And what is this man doing driving an Uber? Put a top hat on and rise to the challenge! This web site is for leaders. 
What happened to the stuff that was here before?
Since the election is over, I've decided to archive the old front page rather than just destroy it. It's a pretty good way to catch up on what I was doing in 2016. The new page should help you get to the info I want you to look at faster. I'll be focusing on my video blog so I can get the attention of iPhone users, who tend not to read whole paragraphs due to the formatting. Click here for the old front page.