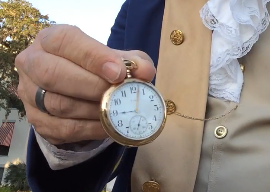 So this is the big week. This is the week that we decide whether we will have freedom, or we will be enslaved by the Chinese Communist Party.
To me it looks like the Chinese government is in control of just about the whole world at this point. I could be over-estimating. I'm not with CIA. But I do wonder who is. I think a very fair question for anyone to ask is: who is the CIA working for? Who does anyone in any three letter agency work for?
The American people have mixed views. Some say the CIA is enmeshed in a web of international pressure (to put it euphemistically). Collectively, we call them the "deep state." Are they good cops or bad cops? Is a global mafia taking control of the mightiest army in the world? What bad person wouldn't want to? What biggest baddest person wouldn't be most familiar with the dark side and learn to control it? Isn't the CIA the mob's first and most important target?
Intelligence is a many splendored thing. Pressures, motivators, goals. What are the goals? Whose goals? Those of the president? Those of the American people? Who are they working for? It's too easy to say they work for us. The only way to unravel the mystery is to dig in. We'd have to find out who profits by controlling them. Well, if you had a long standing crime syndicate, you would certainly profit by controlling both intelligence and the military.
So expect drugs, expect human trafficking, expect black market armaments to start the next school massacre, street gangs and wars. I don't know who is in charge of the mob, but selling slavery, misery and death is very lucrative to them. We all have access to the stats. There's a there there. If you've seen it already, then how do you think it happens if the deep state is so clean? It's not clean.
Collectively, we call it "the swamp." The agencies, the politicians, the big businesses profiting from it – they are anything but clean. It's a gooey cobweb of blackmail, extortion, calumny, threats, abuses and suffering just waiting for a RICO trial.
And now control of the house, control of the senate, possible control of the judiciary are all there to make justice go away. Or do you suppose that it will finally come upon us, that it has been a long time waiting? Sam Cook is my man!
What's the answer to that? As 2021 is on us, just ask yourself, who has been protecting whom? Who has been attacking whom? Democrats have thought themselves savvy for forwarding memes that count the number of arrests of Trump team versus previous presidents. Saint Obama has a scandal free eight years, you know.
Really? Well if that's true, then either we have justice, or we don't. Do we? Let's consider quality versus quantity. But that's for people who actually do research to do. As I consider our future, my anticipation of 2021 starts with seeing this power grab going on. It's nothing simple. I sure can't keep up with it.
Good grief, there's only one reason I get involved with politics. I'm concerned – very deeply concerned. It's not just the mob. It's the mob boss. Who is the boss?
Well, what are the qualifications of a boss? If it's the mob, it's got to be the toughest, most ruthless, most well-respected candidate. You have to earn it Machiavelli style. Am I wrong? So who would that be? Who has proven they can be a boss of that magnitude? Donald Trump, you say? No. He just got swamped. Didn't he?
It's somebody else. Is it Biden? You know better. Biden made deals. Let me understate something: He did not have the upper hand. He is not the one in control of any deal. For Joe, he's just trying to survive and protect his family. The presidency has its advantages.
Joe can even leave a legacy. Full control of the house and senate. A justice department that can be stacked if necessary, but already cooperative. Good for him.
There's only one hitch. He'll have to sell out the American people, us, while he appeases the deal makers who took this by force, not that he can't sell at least some of us on the idea that we are getting what we want. It's not like there won't be a trickle down effect. You'll still get stuff from time to time. You just won't be the priority. That goes to the deal makers. They're the bosses.
Again, what deal makers? Who is the head of this?
Well who's most in power? Is it the people with the most money? Or is it the people with the most political control? If it's the latter, then just hunt down the largest dictatorship you can find – the one with the biggest army and clearest government control. That's the one who's in control. Now that's a boss. It isn't the money. It's the army.
Hmmmm. Thinnnnnnk.
If you said Russia, then you must watch CNN. I feel sorry for you. Google the answers. I'm not here to repeat what anyone can easily check out. The Chinese Communist Party is clearly the head boss in the world at this time, not Russia. The Chinese economy is expected to exceed America's by 2030. A few more rounds of pandemic and it may even happen faster.
But it's worse. They already have more power than us. Money, even money with armies, doesn't buy us love. America is divided. Half of us think Joe Biden cheated to win. One friend compared Biden's victory to Scar, from the Lion King. The hyenas now rule.
If CNN can be believed, 81% of Trump supporters still think he won despite all the "independent" fact checks and account suspensions you and they may have read. Time could tell who really won if the evidence wasn't so quickly deleted and held away from transparency and accountability. To those 81% you will now never be able to convince, any way to double check the results seems to have disappeared. Accountability vanished along with 27 Mueller investigation phones, dozens of bleach bitted Blackberries, tens of thousands of emails, and the Seth Rich files. But all the indictments are on the Trump side. Justice has been pissed on once again.
Such transparency we have. And this is somehow going to heal the nation?
No. The Chinese have much more than us in terms of soon owning us, if they don't already. They have n0 such division in their party. The Republican Party is perhaps permanently divided now. A third political party comprised of Trump supporters who feel Republicans betrayed them and sold out to the swamp, are angrier than they ever have been. How could they not be?
What fools these Anti-Trump Republicans are to think they'll ever get elected again! They'll lose their primaries. Well financed Democrats will easily defeat a house divided. I think it is safe to say that the Chinese government favored Joe Biden in the election and may have helped him directly. Research that too. There is no problem for their interests if the Democrats should be in power for the next generation. And it doesn't matter. Any inquiry on Biden that would mirror Trump's Russia collusion will be knocked down by a house and senate majority. Joe is unimpeachable.
Some say the Democrats are split, as well. They have their liberals and moderates doing some infighting, but I don't think that will amount to anything. No significant third party is in the picture. The Green Party is no more than an annoyance. The radicals can seize power within it but the party isn't going to split.
At this point, the Democrats will have millions of newly immunified immigrants on their voter rolls, as if they needed them when the competition is severely divided.
So that's predictable. What I'm waiting for though, is for my African American friends to see something and start something. I shouldn't have to preface this with a statement of how much my heart bleeds for the people I've heard about as I've watched the news through the years, and how much I wish I could somehow make things better. But know this. I've often wept when I've seen and heard about things. I get emotional that way. I didn't support Trump because I was a racist. I supported Trump because I wanted to drain a swamp. America will never be great if it is run by the mob.
I'm not opposed to reparations. I don't know how to make things right. But what I want you to know more than anything, is that if you work for a mob boss, you are at their mercy. Legally you may not be their property, but in effect, you just have to do whatever they tell you to do. If you don't, you're dead. That's pretty much ownership. Will you allow me to use the word "slavery" to describe it? I in no way want to diminish the sacred horror and memory of that word. I just want to contrast slavery with freedom. I want you to understand that I abhor slavery and I do not wish to become anyone's slave.
No matter the color of your skin, together we are confronted with a fact: the worlds largest slave force is the Chinese people. While it may well appear that the many are enjoying American freedoms and ownership as immigrants or visitors, or enjoying prosperity in their country, they only have those freedoms that the Chinese government grants them. They lack freedom there, and to some extent they lack it here. It's how dictatorships are.
The owner of the grand forthcoming plantation is the Chinese Communist Party. They are the big boss. You must be aware of this. Russia is free in comparison to China. Across the sea, both countries have America, no longer strong, divided, hurting from an economy that just received its pandemic.
But the Chinese are the big boss of all, including the United States. They threaten everyone on the planet. They don't have full control of it yet. You don't see what they are doing to their own on the mainland. But they are getting better and better at achieving their ultimate goal, which is complete control over the entire world – worldwide enslavement, though they think of this in positive terms.
The Chinese government already threatens us in many ways. They gather information, they spy, on every citizen. They have accessed our most sensitive data centers. They own the majority of the world's 5G communications infrastructure. Wherever they build it, they monitor it. Their eyes and ears are now on the whole world. Their AI is on it, learning about every move you make.
Think about that. If they didn't like you, if they thought you might somehow be a threat to them or get in their way, you'd be the first they'd target to spy on and eliminate. Who would they think was a threat? You? Imagine having the technology to single out top political enemies with a software algorithm that could instantly view you typing or messaging through your phone or computer.
If you've been watching porn, they now have a record. Anything you've written is found and analyzed in a fraction of a second with the latest AI. In a way, it's really cool. Too bad it can be used against you. And if they happen to find nothing to nail you with, don't imagine you've escaped; if they want to, they'll create it. They can and will destroy anyone they want. Owning the Internet and mass communications is essential in that and they can access anything we can access. And we can access just about anything.
Remember when Republicans were all upset that they were being singled out for tax audits under Obama? Wasn't that a fun time? Expect more audits. Trump supporters will be at the top of the list. Who else is alarmed about the Chinese? Right now, just for being a Trumpster, you have a target on your back. The Chinese government will hide behind an American government it controls to bring you down. They're teaming up and already working on it.
Let me ask you who voted for Biden: did you feel like Trump was going to work with the Federal agencies to come after you personally and destroy you in any way he could in 2016? Is that how evil you thought he was? Because that is how it feels being a Trump supporter right now. We have been literally threatened by people in power who have said they would be coming after us.
And that's no good. But what I find far worse is the idea that the Chinese Communist Party is seeking to control them and there is much evidence that in many ways they already do.
I won't clutter up my 2021 outl0ok with the details. You can read about it all if you do your own research. China has literally eight times the population of the US. The Chinese government does not value life. It tolerates a free economy for the sake of a long term strategy for world domination.
It's that strategy and the result of it that I want us all to look at. In writing this, I'm writing especially to the Chinese themselves, whether to Chinese Americans, visitors, employees or CCP members. To the CCP, you know you're winning. You know you have the advantage over the American and global swamp. I don't have to tell you this. There is something else I want to tell you. I'll save it for last. Really, this is my letter to you above all. I am going to issue a challenge for our future. First, let me address the others.
To the non-CCP members, and you alone know who you are, wherever you are, I think you are in the majority. I think you don't want to be enslaved by the CCP. I think you know that, as well. I have a special request. I want to call on you, to reach out to my African American friends, to the Latinos, and to every new immigrant that thinks they should be a Democrat. Warn them about the CCP. Let them know that the final result of their game, their strategy, is to turn this world into one giant slave plantation. This is what the bosses' bosses, who rule the deep state swamp from a close distance intend to establish.
It's the bosses' bosses in full control. This is why Joe Biden accepting $1.5 Billion from the CCP owned Bank of China through Hunter was a serious problem. This is why Google, Twitter and Facebook suppressed the news before the election. No misinformation labels were put on claims that the Hunter Biden laptop story was Russian disinformation. They are obeying their Chinese Communist Party bosses. China needed Biden. Unlike Trump, he does what they ask. And what they are asking for is world domination. They want to be the boss of us and the whole world.
For the most part, these minority groups, the Latins and African Americans who voted for Biden, did not get that news before the election. Dear friends, you were told it was Russian disinformation by the same CIA propagandists that we rely on daily for our news. You chose to believe them because you were told and you believed that Donald Trump was a racist. You were told that his supporters were racists too. I don't expect to change your mind about that. I just want to warn you about the Chinese Communist Party. Voting for Biden was a trap.
Some figured that even if Joe gets impeached or leaves due to senility, that Harris will make a fine president. I hope you're right. I'd like to think nice things about her t0o. Unfortunately, I don't think she'll be the one in control. I think the Chinese Communist Party will be in control. I think they are already controlling those who got Biden elected. Harris would not be fixing this. She would most probably do their bidding. She probably already has been. God knows what they may have already threatened her with – or promised her.
So that is what I want the non-CCP members who read this to tell Democrats, beginning with my African American friends who voted for Joe Biden. Now let me get back to what I want to say to the CCP and Chairman Xi. This is the main point of this communication. It is about what Communism is and what the Communist goals are.
Letter to Chairman Xi
I know that you want the best for your people and for the world. You do what you do because you believe it will produce the best result. Communism is the hope you have for making this world better for everyone. Consider this a direct address to Chairman Xi Jinping and his successors in the CCP.
Dear Chairman Xi and CCP:
I once had a beautiful thought. I imagined a world in which there was no such thing as exchange. Each person simply worked for the common good and each person received from others who also worked so that each had what they needed. There was no monetary exchange. There was no barter. There was no debt. Anyone dwelling in a home had security. It was theirs to keep no matter what. If they needed food, clothing or anything else, they could pick it up at a market without cost. Their transportation would also be free.
I was working at a bank when I first had this thought. The constant exchange of money all day long day after day seemed like an enormous inefficiency. Money is an indirect good but the entirety of my time was being consumed by it. I was producing nothing tangible at the bank. This made me realize that I was doing nothing to improve the world.
While I was working there, I considered how many other workers like me produced no direct goods. We didn't deliver anything. We made nothing. It occurred to me that I could measure this approximately just by counting how much office space there was in any city. People don't make things in most offices. Things were made in factories. Things were served by those who distribute. The ratio of factory space and truck space and restaurants and entertainment venues to office space was a fair measure of the efficiency of an economy in terms of indirect to direct benefit.
I estimated that approximately 95% of American jobs produced no direct good. They were entirely comprised of indirect good by exchanging money, recording it, protecting it, leveraging it, or stimulating it through advertising, or accounting for it. My point is that if there was a system that eliminated the jobs that serviced only indirect goods, that those workers could be repurposed to jobs that produced direct goods. The result would be up to 2000% higher production of direct goods.
For this reason, I have been far more attracted to Communism than most other Americans, and certainly most other Trump supporters. However, there seemed to be drawbacks to both Communism and Capitalism. Capitalism may have been inefficient in terms of producing direct goods, but it managed supply and demand, it induced creativity, it kept people working and overall, particularly in America, in many ways it was working and seemed to be producing a level of abundance that no Communist country has been able to keep up with.
For many Americans, as you are aware, this has served as proof that Communism doesn't work. I won't try to assess the truth of this here. I will simply point out that where there is pure Communism, it is often difficult to motivate people to work. At the least there is a challenge. If all receive benefits without cost, then what will motivate them to work? Even with a 2000% more efficient system for producing direct goods and services, the problem of motivation is challenging. All a government can do is make threats. Fear is the motivator. Perhaps some intrinsic satisfaction in knowing we've done a good job, but not in enough workers.
No, it seems that Capitalism has been producing the majority of Chinese abundance, rather than Communism. We don't have figures for this but no matter how you measure it, there is something to be learned. Namely, work dramatically increases for the production of direct goods and services when there are incentives to do so.
This said, I implore you to consider an alternative economic system. It would not have the raging injustices inherent in Capitalism. But it would provide the one advantage Capitalism has -sufficient motivators to inspire people to work. They are, in fact, pleasant motivators, rather than fear, like that of a slave fearing his or her master.
Dear Chairman, in this letter I am going to assume that the CCP will eventually gain complete control over the entire world. Clearly, you are succeeding. At that time, you will be able to hurt us, or bless us. No one will be able to stop you from killing us if you choose. I am asking that you consider implementing an incentivized economy so that you do not create a worldwide slave plantation or feel the need to destroy us, which you surely could do with impunity.
The incentivized economy I am speaking of begins with the elimination of all exchange. Each person has access to a central database. Using this database, they can find jobs to do. Using this database, they can request things that they need. I have spelled this out carefully in the "asynalagonomy" link on the menu at the top of this page. I have developed an elaborate system. It provides accountability, quality control, and checks and balances to keep people working at top efficiency.
Using this system, citizens will enjoy property rights. They will live right where they already are. No one can take their homes from them. All will have access to healthcare without cost. All will receive education without cost. There is no cost because there is no monetary system. Each citizen earns privileges based on the type and quality of work they do according to the needs expressed by all through the database.
Those who do excellent work, will be evaluated by quality control managers. Quality control managers are evaluated by others so that all report fairly. A formula of quality and type of work based on demand as reported by citizens to the database, then determines what level of privileges the citizen will have earned.
The result will be zero unemployment and no cost for anything. Limited resources and renewable resources are subject to control by Resource Managers, who also are held accountable by auditors. Incentives to reduce family size and other social concerns are largely determined by the vote of the citizens themselves as they express their needs in the database. An increase in privileges for males who voluntarily get vasectomies is the most humane way to keep population under control. Mandatory abortion is considered a violation of human rights.
Most Trump supporters are Libertarians. They will laugh at these suggestions. They will dismiss the value of this letter. I am writing to solve a problem. I do not want the world to be one giant slave plantation. I see that you are poised to control it. The decision does not belong to any Trump supporters. It does not belong to the Democratic Party. It belongs to you. You are poised to exercise your control over the swamp – that network in the world that is pressured by your intimate knowledge of its weaknesses, by blackmail, by extortion, by espionage. You know it. I know it. This letter is to you.
I don't know why Karl Marx was so obsessed with the dynamic between the ownership class and workers. Capitalist industry does create that dynamic but it is not necessary to concern ourselves with it. Capitalism will die on the day that the global economy crashes. The gap between rich and poor will call for a total reset and the CCP will seize control at that time to implement a new economic system. It will seize the European and American military through the controls it has gained over their figureheads to harm or benefit them.
Those with alternate currencies at that time will try to survive but with the majority of the world in destitute poverty, their ownership will be meaningless. The great reset will entail a conversion by these same masses to this incentivized system. Or will it be to a global plantation?
Chairman Xi and CCP, this is up to you what it will be. Either you will make everyone miserable, by letting anarchy sort itself out with endless revolutions that never achieve a utopia, or you will implement a system that achieves maximum efficiency, one that uses positive incentives instead of fear and slavery.
This is up to you. It is my work to present you with a better alternative – one with none of the drawbacks but all of the benefits and ideals. Find out more by reading about incentivized asynalagonomy. It is in the menu link. Thank you for hearing me out.